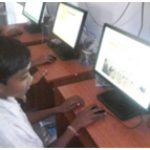 Bijaya Ranbida
After the death of both the parents of Bijaya Ranbida, he is staying with his paternal uncle in the Sradhapalli village of Kuchinda block of Sambalpur district and studying in Boxama Nodal Upper Primary school.
Before he was admitted in the school, the child was not very interested in studies and had low performance in Mathematics, Science and Geography. After introduction of CAL Programme in the school, the hard spots of the subjects were demonstrated to the child through the digital contents. This helped him to understand and remember the topics for longer period. The child is now attending the school regularly. The performance of the child has also improved.


Rishikesh
(Students in Zilla Parishad Primary School in Kadamvasti (Paritewadi) in Solapur district in Maharashtra traveled 5990 miles for a global trip to South Africa, Thailand and Malaysia in just two days! What sounds unbelievable was made possible because of communication technology, as these were virtual trips organized as part of Skype-a-thon by Microsoft on 29-30 November 2016.)
We did a virtual trip to Malaysia, Thailand and South Africa. We saw penguins, played quiz games and together sang poems. We were happy to meet our friends in the other countries.
We have computer and tablets in our school. Everyone of us is able to operate computer. We write our names and draw painting. We also play games. It is fun.