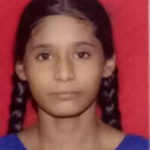 ElLMA
Ellma studies in 8th class. She was a dropout student and was migrated from Meerut (U.P). Her father is the only earning person in his family and as their family condition was financially not good at Meerut so they moved to Chandigarh in search of better opportunities.
Her father was working in a boutique in Chandigarh but now a due Covid-19, he has lost his job and now doing work as a labourer.
She is having two brothers and two sisters and her elder brother is also doing a part time job for earning.
But Ellma is no longer discouraged by her circumstances and she was admitted    in    GSS    45-A,    Chandigarh    in    class     7th     STC. She is very hard-working student and now in class 8th, she is doing very well in her studies & other activities.
When she was admitted in STC, she didn't understand English & Punjabi but now she not only understands but also read & writes English & Punjabi language. She is very good in Art & Craft and is very creative child. She also draws very beautiful Rangoli and Mehandi Designs. She is also very good in Painting & Sketching.
She also got prize in Talent Hunt program, in GMSSS, sector -10, Chandigarh. Testimonial_Ellma.pdf
Thanks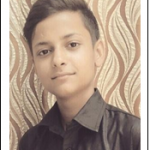 KUNDAN TIWARI,CHANDIGARH
GOVT MODEL HIGH SCHOOL 20 D CHANDIGARH (CLUSTER NO – 7)
Details of case History:-
 Name                             :         Kundan Tiwari
Father Name                   :         Sanjay Tiwari
Mother Name                 :         Madhu Devi
DOB                              :         06/06/2006
Year of Admission         :        2012
S.T.T                             :         Mrs. Nitasha
Introduction :–Kundan Tiwari is a 11th class student who is working very hard to achieve success in life. He is a dropout student and was admitted in Govt. Model High school sector 20 Chandigarh in year 2012. He was very inquisitive and hardworking child. We taught him IIIrd and IVth curriculum. Because of his zeal and disciplined nature, he was able to complete the syllabus of two classes with in a year and mainstreamed to Vth standard and that too good grades
Challenges :- His father is engaged in private work and his mother is a house wife. He has two elders sisters. He is the only son of his family. He became focused towards studies and understood his responsibility towards his family.
Evaluation of the case:- Some of the major objectives of Samagra Shiksha (Sarva Shiksha Abhiyan at the time of case history) are as fellows.
To provide useful and elementary education for all children in the age group of 6-14 years.
Program with a clear time frame for universal elementary
Focus of elementary education of satisfactory quality with emphasis education for
To bridge social, regional and gender gaps with the active participation of community in the management of
Universal
The subject of our case history, Kundan Tiwari has achieved all the objectives very gracefully.
Achievements: Kundan was multi-talented child. In school, he joined Nation Cadet Corps. During this period, he attended two NCC Camps and got "Grade A" certificate in the year 2019. He is very good in studies as well as in sports too. He joined Judo in G.M.H.S – 20 D and participated in state level competition and won 2 silver and 1 Bronze medal. He is an all-rounder student and participated in Chandigarh Theatre workshop organized by Chandigarh Sangeet Natak Akadmi and acted gracefully. In 2015-16, he also-participated in Bhartiya Sanskriti Gyan Pariksha and bestowed with certificate.
Role of Teacher:- He was a dropout student. It was challenging for teacher to cover up the syllabus of two classes with in a year but taking helps from various digital and modeling aids teacher covered the standard syllabus with in one year. Teacher also motivated and encouraged him to face all the hurdles of life in a very systematic and focused manner.
Take away from the case: – What we, as teachers, learnt from his case was that though extra work is needed for OOSC, but with consistency in efforts on the part of teacher and usage of right tools (online and off line aids), success can be achieved. An OOSC not only required help in academics but also proper counseling. Ultimately hard work pays off.
Thank you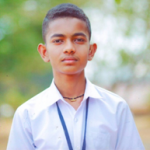 Deepa Suresh
Deepa Suresh
(Mother of Vishnu Suresh)
Standard IX,
Deepthi HS Thalore,
Thrissur District, Kerala State
I am Deepa Suresh, mother of Vishnu Suresh, a 9th Standard of Deepthi HS Thalore. My son, Vishnu is a Hearing Impaired Child. He faced difficulty in understanding the lessons thoroughly, but he was fond of making and repairing electronic devices. When his Resource Teachers and Teachers identified this skill, they supported him and thus he participated in Science Exhibition.
The service of Resource Teacher is available at the school three days a week. The teacher understands his problem and gives sufficient support in his classroom activities. She uses flash cards, pictures and other TLMs to ensure his comprehension. Resource Teacher, Shailaja recognized his skill in drawing and supported him. He participated in Kerala State Special School Youth Festival conducted in Kollam on 25th, 26th and 27th October 2018. He won A Grade in Pencil Drawing.
He gets Speech Therapy from BRC Kodakara and receives Remedial Teaching also. This improves his confidence level and now he is able to talk and he behaves like a normal student. I would like to thank H.M Babu Master and RT Shailaja Teacher and all his teachers and friends for supporting him and giving him confidence to face his life.
Thankfully,
Deepa Suresh
(Mother of Vishnu Suresh)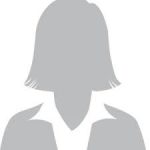 Deepa
I am Deepa, resident from the Melkatayur village, dropped out of school after the death of my father when I was studying in VII standard.   I remained out of school for 6 months. SSA and Hand in Hand staff identified and convinced me to continue my education. I was enrolled in the Bharathiyar RSTC on 25/10/2014 through sustained counseling where I completed VIII standard. Later I was mainstreamed in Manampathy Government Higher Secondary School (Enrollment No: 9130) (UDISE Code – 33030301503) to pursue IX standard.  I stayed in the RSTC and continued till X standard securing 377 in March 2017Board exam. My aim is to become a Bank Manager and will work towards achieving that goal.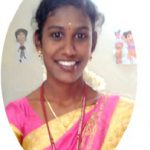 Menaka
I am Menaka. I am from Pallakulam in Vilathikulam block. I have two younger brothers. My parents are Mr. Palpandi and Mrs. Padmavathi. As there was no school nearby in our village, I had to work in a brick kiln along with my parents, at the age of seven. When I worked in a brick kiln, I was identified by Sr Punitha an NGO in Vilathikulam and admitted in NCLP Vilathikulam in 2002. When I comlpleted Std V, I was admitted in Alloysius Girls HSS (DISE Co:33280101906), Thoothukudi in 2005. I scored 316 and 828 in X and XII respectively. After the successful completion of my schooling, I completed my B.A., Degree in English at MS University College Nagalapuram. Then I did my professional course B.Ed., in Chandy College of Education, Thoothukudi. Now, I am working as a warden in RSTC,Vilathikulam.
I am very grateful to NCLP,Vilathikulam and NGO, Power Healee Trust, Vilathikulam. If I had not been identified at the right time, I would have spent my life like other laborer's in a brick kiln. Thank you.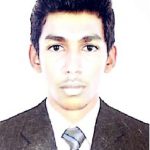 S. Vijay
Life of despair:
My name is S.Vijay.  I belong to a very poor family.    My family's economy compelled me to discontinue my studies before I could complete VI standard during the year 2011-2012. In order to help my mother, I started working as a sales person.
Renaissance:
At this juncture I was identified by the supervisor and Block Resource Teacher Educator of Sarva Siksha Abhiyan (SSA) during their survey in our area.  They gave counseling to me and my mother, and explained the significance of education to us.  As we both were convinced and got interested in continuing my education, they admitted me in Std VI in the special training centre (NRSTC) at Adhi Dravidar Welfare Primary School (ADWPS) (DISE code: 33151004601)  campus in Milaguparai, Trichy District.
My Guru
I must mention here the earnest efforts of the Educational Volunteer Mrs. Uma who took special care of me and encouraged me to involve in studies.  So I gradually got interest in studies and started learning to read and write. She also taught me painting as well as making handicrafts.  After the completion of special training, I was enrolled in Adhi Dravidar Welfare Higher Secondary School, Milaguparai (DISE code: 33151004602).
My Achievement and Gratitude
I regularly attended the school and now I have completed X standard successfully  scoring 294 marks.  The special training given to me  was very much helpful to me and I am happy  to extend  my thanks  to all the SSA Staff  and Educational Volunteer (EV) who guided me to lead my life  in the right path towards a bright future.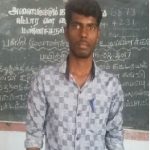 Kumarasen
I am Kumarasen from Lalapettai in Karur District. My Family belongs to Below Poverty Line category.  Due to my family circumstances, I discontinued my school education while studying VII standard.  When my mother passed away it led me to total depression.  Hence, I was left under the care of my grandmother in Mannachanallur, Tiruchirappalli District.
Got back my education:
My uncle, who came to know about the activities of Sarva Shiksha Abhiyan, Tiruchirappalli, motivated and guided me to continue my education.  When I met the Supervisor of SSA, he gave good counseling to me which made me realize the importance of education in my life.  With the help of my uncle, I joined SSA's Residential Special Training Centre in Samayapuram, Mannachanallur.  I was trained in that Centre during the academic year 2009-10 and studied VIII standard.  Subsequently on 31st March, 2010. I was mainstreamed in Panchayat Union Middle School, Koothur, No.1. Tollgate, Mannachanallur Block. (DISE code: 33150301801).  On passing VIII standard, I got admitted in 9th standard in Government Boys Higher Secondary School, Mannachanallur (DISE code: 33150300102). 
Came out with flying colors:
I continued my education in the same school with lot of inspiration from my beloved teachers and I completed my secondary education during 2011-12 and higher secondary education in 2013-14.  I was scored 360 marks in X standard and 982 marks in higher secondary examinations.
Growth in my life:
I got admission in EVR College for pursuing B.Com.  In I & II year degree examinations, I scored an average of 66% marks and now I am trying hard to score more.  Then I got admitted to the Institute for Entrepreneurship and Cares Development, Bharathidasan University in Logistic & Supply Chain Management, offered by DDU KAUSHAL and qualified with distinction.  I realized that being literate is not just a right, but a gift. I am very grateful to SSA because of the bridge course they provided me to build my ambition.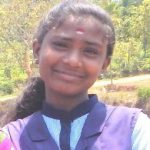 NISHA. M.
I belong to Paniya Tribal Community from Odamvayal, and I am very happy to share my testimonial on how I was able continue my studies inspite of various shortcomings.  After attaining my puberty I was dropped out.  I remained at home for nearly a year and was identified by the SSA team as a dropout.  I was not at all willing to continue my education but after motivation and counselling, I joined the RSTC Ambalamoola Centre and was given a bridge course and later mainstreamed to GHSS Ambalamoola (33110400504).  I am presently doing my IX std and I am so happy that next year I will appear for my Board Exams. Thanks to the SSA team for giving me a new life to continue my studies as a tribal girl.  I wish to come up in life as a successful tribal girl.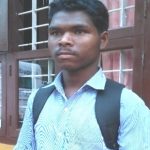 MANOJ
I am Manoj  17 years old.  I belong to a dysfunctional Paniya family.  My father passed away when I was young and I was deserted by my mother who married another man was taken care of by my old aunt who was least aware of education.  The SSA team identified me as a dropout and admitted me to the RSTC at Ambalamoola with compulsion.  First my life at the RSTC was so bitter but later I got used to it and enjoyed learning.  I would like to add to my testimonial that I am partially blind 75% and had regular medical check-up at the centre and I am provided with spectacles but still find it difficult to read and write clearly.  After vigorous coaching I was mainstreamed to the GHSS Ambalamoola (33110400504) and now going to appear for my X Std Board Exam. I have applied for scribe and wish to get good marks and further continue my studies and come up as an educated Paniya tribal youngster.


S. Sivanagari
I am Sivanagari residing in Kesthur village.  Kesthur is a very remote village situated in a forest area in Thally block of Krishnagiri district. There is no basic  amenity available in the village and we need to walk about three kilometers to reach the school in Manjugondapalli. It made me to remain as a Never Enrolled child up to the age of 10.   It was at that time, SSA started a RESIDENTIAL SPECIAL TRAINING CENTER (RSTC) in Kesthur, necessitated by the OOSC survey conducted in 2009. It was a great boon to me and the school age children in my village. The BRTEs identified me and admitted in the RSTC, where I was trained to reach the minimum level of learning. After completing my VIII Std., I was mainstreamed in GHSS ANCHETTY. Due to my family background, once again I became a Drop Out.  But, the training I got in RSTC made up my mind to continue my studies and to appear X std. Examination as a private student.  I secured 237 marks.  After that I joined XI Std. in GHSS Anchetty (DISE No.3331170040) and  scored 720 marks in XII std. Then I completed my B.A. English Literature from Government Arts College, Hosur in 2017. Now I am working in a private company in Bangalore and earn Rs.8000/- per month. My ambition is to complete B.Ed. and become a good teacher like the ones who changed my life.  I am grateful to SSA – KRISHNAGIRI for making my life prosperous and happy.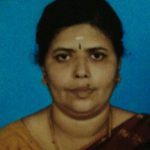 Jalaja kumari
I am Jalaja kumari working as a Headmistress in GMS.Chittar (UDISE No. 33300700604).  Sree Vishnu karthik's family was residing near our school and were very poor.  Even then they send their elder son Sree Vishnu Karthick to "Bharath Primary School" at Pechipparai.  He was studying in II Std.  Since they were unable to pay the monthly fees in the school, so he stopped going to school and stayed at home.  He used to come to the shop nearby our school and one day I asked him why he was not going to school.  The boy replied that his parents were unable to pay the fees, so he stopped going to school.
I informed this to the BRTEs who came for the survey.  Along with the BRTEs, I went to Sree Vishnu Karthick's  home and talked to his parents.  His mother said,  "since we were not educated  we want our son to be educated in English medium school".
We told the parents that in GMS Chittar we follow English medium and advised them to enroll their child. They happily admitted their child in our school.  Now he is very happy and comes to school regularly.  Special coaching is being given through NRSTC centre.  Now he studies well.  His parents are also very happy because the boy studies well without paying any school fees and van fees. They also enrolled their younger son Vino Karthi in I Std. His parents frequently come to the school and enquire about their  children's achievement.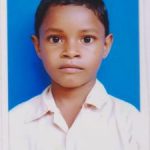 G. Soojoal
My name is Soojoal from west Bengal.  My father's name is Gopal and mother name is Kemma.  Due to poverty we come to Kanyakumari District in search of work.  My parent got work in the Brick kiln at Chenpagaramanputhoor.
My parents asked me to support them in making bricks. When I was working with my parents some teachers came to the Brick Kiln where we were working.  They asked me to go to school.  But my parents were not willing to send me.    Teachers repeatedly came to our hut and talked with my parents.  They spoke to my parents about the importance of education and the rules of the government. Finally my parents  accepted to send me to school. Teachers took me to GPS. Chenpagaramputhoor (UDise code:33300100201) school and gave uniform. I got food from the school. In the beginning I was not interested in learning but was interested in drawing.  So, I used to draw pictures in the note book.  My teacher encouraged me to draw pictures and gave crayons. She hanged the pictures in the wire pandal.  Now I am interested in the studies also.  Those who visit our class appreciate me by seeing my drawings.  I use to help my parent on holidays and taught my mother to count the bricks.  By seeing the change in me neighbours are also now willing to send their children to school.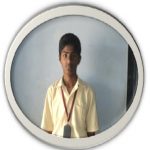 N. Maideen Basha
I am Maideen Basha, doing II year BE in Electrical and Electronic Engineering in GOJAN school of Business and Technology, Edapalayam Redhills Chennai 600052. I was once an out of school children after migrating from Karnataka along with my family. I was supporting my family by working in chamber. During 2008-09 I was enrolled in a special training centre which was functioning in PUMS Unjapalayam where my life had a turning point I completed VIII Std in the special training centre. I came out with flying colours in secondary education with 453 marks from St. Ignitius High School Boothapadi and I completed my higher secondary by scoring 829 marks from GHSS Andhiyur. The day I met the SSA personnel was a memorable one as it changed my  life and made all the difference in my academic career.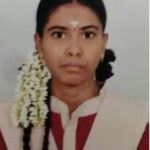 Anjali
I am Anjali from Tirupur. Due to lack of interest, I
discontinued my studies when I was in Class VII. Later I was
very much worried about my future. During the survey
conducted by SSA in April 2011, the BRTEs met my parents and insisted on the importance of education and my future.
Through their guidance and counselling, I was enrolled in
VIII Std in NRSTC of SV colony.
Mrs. Pathma Priya was the Educational Volunteer of the NRSTC which was
functioning in Municipal Middle School, S.V.Colony (UDISE No:33122202901). She
inspired me a lot. She taught not only the subjects but also
good habits. They provided noon meal, uniform, school bag
and chappels free of cost. It was only because of the
training provided in the centre. I passed the NMMS exam
successfully and received the Scholarship.
As I got interest in studies I completed VIII Std in MMS
S.V.Colony successfully and continued up to XII Std at
Jaivabai MGHSS, Tirupur. In X Std , I scored 440 and also
scored 1009 marks in XII Std. When in school I got a bicycle
and laptop free of cost issued by the Government of Tamil Nadu. Now I am studying II
year B. Com, CA in LRG Govt Womens Arts College, Tirupur. I thank Sarva Shiksha
Abhiyan for shaping my career and future.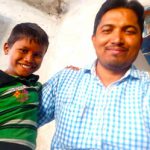 Charan Namdev Rathod
The major problem of many students in Palsona cluster in Hingoli district was their seasonal migration with their parents who earned their living through cane cutting. With consistent efforts teachers and cluster heads had been able to hold back a little older children who would take care of themselves, but younger children still accompanied their parents.
Actually, regular attendance is far more important for newcomers, to develop interest in schooling. Also once they lag behind in learning from their fellow students, they don't feel like coming back.
In 2016 Diwali Charan Namdev Rathod, studying in Class I, went with his parents to adjacent district Parbhani. School teachers were in touch with his father on phone and told him to bring to school once they are back. But the father kept postponing for one reason or the other. Hence, class teacher for Class I Mr. Bansode made home visits, met Charan's grandmother, and talked with her. He also kept calling his father to convince him to send Charan to school and finally succeeded in getting his student back in class.
A one-to-one approach, communication with parents, and family visits by the teacher helped to bring back Charan to school.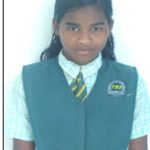 Sumi Karmakar
Sumi Karmakar, D/O- Sri Raju Karmakar and Smt. Indra Karmakar of village Sripur, Huplong, Dharmanagar, North Tripura was identified as a never enrolled child during Vidyalaya Chalo Abhiyan in 2014 and accordingly she was admitted into Class II as per her age at Kadamtala Residential Special Training Centre adjacent to Kadamtala Class XII School, North Tripura District. The Head Master of the school found her to be immensely interested in sports and games and thus advised the sports teacher of the school to give special attention to her and to train her whole heartedly.
During the year 2015, she participated at Block, District and State levels in various athletic events like 50 mts race, 100 mts race, shuttle race and standing broad jump and secured the 1st position in each event.
In order to explore her exceptional sports talent, she got mainstreamed in class IV of Sports School, Panisagar, North Tripura District in the year 2016. Currently, she is in class V and enthusiastically preparing herself for participation in National Sports event.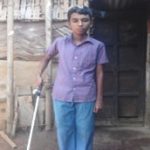 Joydeep Deb
Joydeep Deb was born in a poor family at Krishnagar village of Kumarghat block situated at Fatikroy in Unakoti district. In his childhood he was diagnosed with 100% visual impairment. His parents had not even thought about education of their child. But Joydeep wanted to study and was thus admitted in a neighbourhood formal school. But unfortunately he had to drop out from class-III in the year 2008.
Later, in the year 2010, during Vidyalaya Chalo Abhiyan, he was admitted in Class V in Krishnanagar BM High School under Unakoti District as an out of school child.
After admission, he was highly encouraged by teachers, students of the school and other officials. Teachers and SSA Officials provided continuous educational support and training on orientation and mobility with concept development. He was also provided with various facilities under Inclusive Education programme of SSA and he completed Elementary Education successfully. During the year 2016, he successfully passed Madhyamik Examination (Class X Board Exam) and is now studying in class XI in a formal school.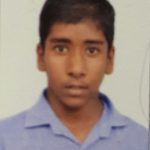 Yogesh
Yogesh, a bright student, had to discontinue his studies as his family migrated to Chandigarh in search of work. After migration their priority was to earn for their basic needs.  Due to these circumstances, Yogesh missed on his studies for a very long time, but he never stopped dreaming. As soon as his father got a job, Yogesh requested his parents to admit him to a school but due to non-availability of documents, he could not take admission in the school.
Somehow, they met a Special Training teacher at Govt. school of  Manimajra Town and due to the efforts of the teacher, Yogesh got admission in GSSS-MMT on 25th July, 2015.
At the time of admission he was good only in Hindi but did not know Punjabi at all and was weak in English too, which was a big challenge ahead. He was not very keen in co- curricular activities or socializing. But due to his unshakable belief and his ambition in life to rise from the shackles of poverty and become an engineer, and due to his tireless efforts, hard work and the efforts of teachers and school, he was mainstreamed in class 7th and is doing very well academically.
Sarva Shiksha Abhiyaan is doing a wonderful job by creating opportunities for students like Yogesh to dream and also to fulfill their dreams.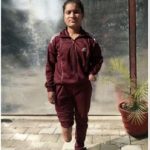 चांदनी
ये मूरत बेाल सकती है अगर चाहो

होश और जोश की चिंगारी सुलगा कर तो देखो
उक्त पंक्तियाँ चरितार्थ की गयी हैं श्री हुकुम सिंह उनियाल प्र0अ0/वार्डन आवासीय हास्टल 55 राजपुर रोड देहरादून के द्वारा। सर्व शिक्षा अभियान/ शिक्षा का अधिकार कार्यक्रम के अन्तर्गत विशेष बच्चे जो विद्यालयी शिक्षा से वंचित हैं को शिक्षा की मुख्यधारा से जोड़ने के लिए देहरादून जनपद में 55 राजपुर रोड में एक आवासीय छात्रावास संचालित है. इस छात्रावास में लगभग 50 से अधिक बच्चे जो विभिन्न कारणों से शाला त्यागी थे को विशेष प्रशिक्षण के माध्यम से मुख्यधारा में जोड़ने का पवित्र कार्य किया है प्र0अ0/वार्डन श्री उनियाल एवं उनके सहयोगी स्टाफ ने। इन्हीं बच्चों में से एक है चांदनी।
जैसा कहते हैं ''होनहार बीरवान के होत चीकने पात'' यह बच्ची जन्म से एक हाथ एवं एक पांव से दिव्यांग है परन्तु आज हौसलों एवं  उम्मीदों के साथ जीवनपथ पर आगे अग्रसर है। चांदनी मूल रूप से बिहार राज्य की रहने वाली है जो पढ़ाई लिखायी से कोसों दूर थी। इनका पूरा परिवार देहरादून के घण्टाघर के आस पास भिक्षा वृत्ति करते थे। प्र0अ0 द्वारा इस बच्ची के माता पिता से इसको आवासीय हास्टल में पढ़ाई लिखायी हेतु भेजने के लिए आग्रह किया गया परन्तु माता पिता इसके लिए तैयार नहीं थे। प्र0अ0 द्वारा सतत एवं बार.बार परामर्श कर एवं यह चुनौती लेते हए कहा कि इस बालिका को 1 माह तक हमारे पास भेज दो यदि आपको इसमें काई परिवर्तन नहीं दिखा तो इसे वापस बुला लेना। इस शर्त पर अन्ततः सफलता हासिल करते हए बच्ची के माता पिता विशेष प्रशिक्षण हेतु भेजने के लिए राजी हो गये और दोनों हुकुम के हुकुम को टाल न सके और चांदनी को हुकुम के हवाले कर दिया। अब हुकुम एवं उनके सहयोगियों के पास एक चुनौती थी कि चांदनी का आवासीय हास्टल में ठहराव एवं उसे प्रारम्भिक ज्ञान देना। प्रधानाध्यापक एवं विद्यालयी की शिक्षिका संगीता तोमर द्वारा जिस परिश्रम एवं प्रेरणा के साथ चांदनी के साथ कार्य किया उसी का परिणाम था कि बच्ची अब घर वापस जाने के लिए तैयार नहीं थी। एक माह के पश्चात माता पिता चांदनी को लेने हास्टल आ पहुंचे लेकिन चांदनी ने वापस लौटेने के लिए मना कर दिया। 03 महीने बाद पुनः माता पिता फिर से यह कहते हुए कि इसके दादा की मृत्यु हो गयी है, अब तो इसे छोड़ दो, परन्तु चांदनी ने वापस जाने से साफ इंकार कर दिया और कहा कि उसे पढ़ाई करनी है और कुछ नहीं। आज चांदनी कक्षा 7 में पढ़ रहीं है और धारा प्रवाह हिन्दी एवं अंग्रेजी बोलती एवं पढ़ती है। चांदनी भविष्य में शिक्षक बनना चाहती है।
पूर्व में 11 जनवरी 2017 को शिक्षा मंत्रालय के सचिव श्री अनिल स्वरूप द्वारा इस छात्रावास में अपने निरीक्षण के दौरान जब इस बच्ची से बातचीत की और पढ़ाई लिखाई से सम्बन्धित जानकारी प्राप्त की तो वो बच्चों की प्रगति से इतने प्रसन्न हुए कि चांदनी और सभी बच्चे ''यूं ही मेहनत से पढ़ो और आगे बढ़ो। प्रधानाध्याक और शिक्षकों द्वारा किया जा रहा यह प्रयास उल्लेखनीय एवं सराहनीय है। इसलिए कहा गया है कि- Difficult Roads often leads to Beautiful Destinations.

Ajij Molla (V)
He was born in a poor family in a village Bhubankali, Kultali. They were forced to shift to Karaikal for want of living. He had to quit his early schooling due to financial burden of his family. In spite of having a burning desire to learn, due to lack of confidence in the regional language (Tamil) and due to non-availability of certificates he had to bury his hopes of studying further.
The teachers of GPS, Serumavilangai approached his family  for enrolment drive and gave the child admission in the school. The teachers encouraged him to learn new things. Now he can read, write and comprehend well in Tamil as well as English. At present he is in class 5.
He wishes to study  hard to become a doctor and serve the people of our nation.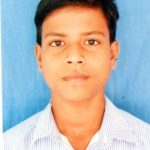 Shalom Dhali
Shalom Dhali came from Sonatikari, Kultali in 2012. He studied II std at Gotiharnia primary school. Due to family economical crises, they migrated to Karaikal to lead their life. His parents were not aware of any nearest school and not knowing the regional language, they didn't send him to school.
Then, GPS school teachers approached them and enrolled him. In the beginning, the child was not interested in going school. The teachers went to his home and explained the importance of education.  During the class hours, the teachers would show a variety of videos and audio clippings about the importance of education.
Now the child is studying well and even came first in his class. He dreams to get a seat in Navodaya Vidayalaya school and continue his higher studies there. He wishes to succeed in painting and become a great artist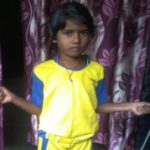 Khushi Sriwastav
Baby Khushi Sriwastav was living in Kota a colony of Raipur the capitol city of Chhattisgarh. Her father's name is Ram Sriwastav. Her mother Sunita Sriwastav died in an accident when khushi was just 6 month old. After death of Khushi's mother her father left her with grandparents. He never came back to look after her. Khushi's grandparents are poor and they always worried about her future. During survey of never enrolled children they came to know about residential hostel. They became very happy when they came to know that Government provides free education with residential facilities.
Khushi' grandparents admitted her in residential hostel no. 1 at Raipur which is being operated by Sarva Shiksha Abhiyan. Khushi is now happy with other children. She describes in her own words "I never thought that I could get education after being deprived by my mummy and papa. I really want to thank my grandparents and teachers whose affection made me strong. I am happy here in this residential hostel with friends. It is better than a home for me."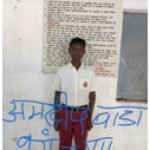 Amerdeep Bara
Amerdeep Bara, S/O Late  Shri Vincent Bara, Mother- Late Sunita Toppo, had been admitted in Inderdhnush Residential school on 26/03/12 through  Shri Upender Kumar Singh,  staff of  Samadhan  Child Seva ( NGO ). Amerdeep  is from Karra Khunti . His mother and father both died when he was young.  Before enrolment in this school Amerdeep was washing the plates and pots in hotels in KHUNTI.  He was also working in PHERIWALA and hotels in Khunti district headquarter area.  He had also never been gone to school.  Presently Amerdeep is studying in class VII.  After enrollment in Inderdhanush Residential School he is living and doing very well. He attends the classes every day. He feels happy in Hostel.  Now he is having basic knowledge of computer. He makes very good paintings. He has been honored many times in different level competitions in Paintings.

Guddu Lakra
Guddu Lakra S/O Late Shri Mahadev Lakra, Mother- Late Rupan Tirkey had been admitted in Inderdhnush Awasiya Vidalaya Residential School on 02/04/11.  Guddu is from Manitola, Doranda Ranchi and he had been residing with his one elder sister. His mother and father both died when he was only six years old. He was working in a hotel situated in Doranda area and sometimes  had to pick rags to feed him. He never had  gone to school. He had no clothes to wear.  His relatives came to know about Inderdhanush Residential School through a teacher of Government School Doranda and they admitted him in this school. Presently Guddu is studying in class V.  After enrollment in Inderdhanush Residential School he is living and doing very well. He attends the classes every day. He feels happy in Hostel.
In Morning in every day Yoga practice session is scheduled for the children so that children can be fit and can concentrate on their  study. Guddu every day participates in the outdoors games like Cricket, Football and Kabbadee in evening. School management pays attention on physical and mental development of children and for this outdoor and indoor both type of games/ Sports facilities are provided for the children.
School management has made arrangement for providing education through educational CDs, cartoon show, movies/ show on based on education and sports and social issue.  For Guddu these types of show arrangements are very interesting and joyful. School has provided him school uniform, Shoes and socks, Bags, color pencils, and all residential facilities in hostel.  The children get regular health check up. There has been arrangement of First Aid also. There has been arrangement for  frequent educational visits for the children. All children celebrate all festivals in schools together.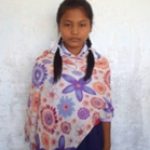 Sebika Debbarma
Sebika Debbarma, D/O Sri Ranjan Debbarma Village- Harbang under West Tripura district was identified as a Dropped-out child during 'Vidyalaya Cholo Abhiyan', 2012 and got  admitted into class III as per age in New Mandwai Girls' High School (Pry.) under Mandwai Block.
She was provided free coaching in the Residential Special Training Centre (RSTC) running in New Mandwai Girls' High School. Teachers of the Residential special training centre worked very hard to minimize her learning gap. Since then, her learning gap has bridged and she was admitted in Class VI of New Mandwai Girls' High School and was provided to the adjacent girls' hostel, run by the State ST Welfare Department. The girl came from a poor family without any stable source of income. However, at present, she is continuing her study in class IX. The girl has gradually developed day by day. Beside Scholastic development, she is well versed in performing tribal song.

Habanjoy Tripura
Age-13 years old.
Class:VI(Six),Father-Jarmejoy Tripura,
Mother-Kati bala Tripura,Vill: Jatindra Para
Po+PS- Ganganagar, Dist-Ambassa, Dhalai Tripura
Distance : Jatindra Para to Ganaganagar- 60 KM
Mark obtained : 71% Grade
Shri Habanjoy Tripura came for study to the Ganganagar High school in the year 2014. He got admission in class – III (three) and was provided boarding facility in Ganganagar Residential Hostel. When he was enrolled, he faced problems in Bengali and English reading and could not pronounce properly. He could not even recognize the alphabets. Later on, under the careful supervision of the Warden and support of the Part-time Teachers engaged for the hostel, his capabilities have improved dramatically. At present, he is able to pronounce, read and write in English and Bengali properly.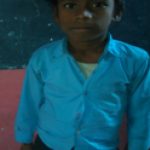 Gourav
When the special training teachers of GHS Karsan went around Ramdarbar colony to conduct a Survey of the out of school children, they found some children playing in the park. The Teachers asked them if they all are studying in any school. All of them replied in positive but only one child out of them said "no". By asking him the reason for not going to school, he told that he has no time for school as he is a domestic worker. The teachers asked him about his family and met his maternal grandmother and his mother. This child whose name was Gourav had recently shifted along with his siblings and his mother from a rural area in Haryana. As told by his grandmother, the mother of this child was tortured by her husband and his family. As she had no source of income to support her family, the child was not sent to school and became a domestic worker. He was a dropout child.
The Teachers motivated her to send Gourav to  nearby school. But she denied by saying that she has no money to pay fees and other facilities. Then teacher apprised her of free facilities being provided by government and her child will get free education, free food, free books and free uniform. She allowed her son to be admitted in school so that he can grow up to be a good man, a responsible citizen.
Enrolment in Special training centre
After assessment of Gourav by assessment tools developed by SSA UT Chandigarh, he was enrolled in special training center and the teachers started his basic and fundamental Special Training according to his level with the help of condensed material, Teaching Learning material and worksheets.
Achievements
He is good at studies and co-curricular activities. He has rapidly begun to understand counting, addition, subtraction and multiplication etc. he is also able to count tables.
He is the leader of "Cleanliness drive" at class level and participated at the school level also.
Monitor of Library books in the class.
With continuous efforts of teachers, Gourav has achieved his level of competency  and now he is preparing for class 7 (Level-III)

Mohd. Rashid
I am Mohd. Rashid a resident of Khichripur village (East Delhi). When I was in class III, I was forced to leave my studies due to illness of my father. My mother opened a shop for selling glass bangles. This was the sole means of livelihood for our family. After dropping out of school, I used to always remain at home and hence became very naughty. My mother was very upset and always kept worrying about me.
One day a survey was conducted by SSA in our locality and I came to know that all the children who had to discontinue their studies can have the opportunity to go to school again.
As a result I got admission in the special training centres being run in Govt. Co-Ed. SSS Khichripur. The environment at the special training centre was very conducive and pleasant for me. My teachers were very patient and helpful.
I was motivated by my PET sir and my teacher towards sports. Although our school has no playground, but PET sir used to take us to the nearby stadium for training.
I developed a great interest in Kho-Kho. I participated in the competition organized at the Zonal level and secured third position. Now, I have got a new direction in my life. I study very well, in addition to participating in various sports competitions.
I dream to excel in sports and to make my parents proud and bring laurels for my country.  Presently I am a regular student of class VII in Govt. Co-Ed Sr. Secondary School Khichripur.

Manmadha Kumar D
Manmadha Kumar D, a 12 years old boy from BTR Colony, a slum area situated in the outskirts of Tirupati was referred by Child Welfare Committee on 12th February, 2014.
Manmadha was living along with his parents and two sisters. Manmadha's father was a mason, alcoholic and neglected the family. He studied upto 5th standard in Municipal Primary School, Tirupati. Manmadha was repeatedly beaten by his mother for his poor attendance, low academic performance, friendship with school dropouts and bad habits like selling the old iron materials, mobile phones, etc.
Manmadha is now comfortable with other children in the hostel after receiving counseling individually and in groups. Manmadha's mother was very happy to observe great change in his son's attitude and behaviour. His mother visits him frequently. Manmadha was admitted into 7th standard in Mahatma Gandhi Municipal Corporation High School, Bairagipatteda, Tirupati. Special counseling has helped Manmadha to fair better in studies. He is regular to school and getting B+ grade in all the subjects. He is found with leadership qualities taking charge of other children in cultural activities like Kolatam, Stage shows, etc. He declares the institute as a substitute family. His goal is to become a doctor and serve the deprived after completing his studies.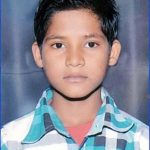 गोपाल अहिरवार
मैं गोपाल अहिरवार, भगत सिंह वार्ड सागर का निवासी हूं। मुझे अनाथ/बेघर बालक आवासीय छात्रावास, धर्मश्री, सागर में आकर एक नई दिशा मिली। मेरी आयु लगभग 6 वर्ष थी, तब मेरे माता पिता की मृत्यु हो गई थी। मुझे मेरे बड़े पिता जी (पिता के बडे भाई), श्री भगवानदास अहिरवार जी ने मुझे सहारा दिया, किन्तु कुछ गलत संगत के कारण उन्होंने मुझे संजीवनी बाल आश्रम रजाखेड़ी, सागर में भेज दिया।
मैंने प्राथमिक शाला रजाखेड़ी से कक्षा 5 वीं तक अध्ययन किया इसी दौरान मैं बाल आश्रम से भाग गया और कटरा बाजार, सागर में एक चाय की दुकान पर काम करने लगा। कुछ समय बाद एक झगड़े के कारण मैं दिल्ली भाग गया। वहां जामिया नगर ओखला में एक स्वयंसेवी संस्था, डान वासको होम सेण्टर में 05 माह रहा। फिर बड़े पिता जी द्वारा लगातार की जा रही तलाश के कारण मुझे चाइल्डलाईन सागर भेजा गया। चाईल्ड लाइन सेंटर सागर द्वारा एवं बड़े पापा की पहल पर मुझे अनाथ/बेघर बालक आवासीय छात्रावास, धर्मश्री, सागर में दर्ज कराया गया।
यहां का वातावरण, समस्त स्टाफ की कार्यशैली तथा अच्छी व्यवस्थाओं के कारण अब मुझे कहीं जाने की इच्छा नहीं होती। मुझे कुछ बनकर दिखाने की ललक पैदा हो गई। अब मुझे समीपस्थ माध्यमिक शाला में कक्षा 6 वीं में प्रवेश मिल गया है। मैं अच्छे मन से रोज पढ़ाई करता हूं और मुझे शाला परिवार के शिक्षक भी पसंद करते हैं। मैं भी सबको विश्वास दिलाता, कि बड़े होकर अपने विद्यालय और छात्रावास  नाम रोशन करूंगा। छात्रावास में, मैं घर जैसे वातावरण में रहता हूं, यहां खेल भी खिलाये जाते हैं। सभी लोग मुझे बहुत प्यार करते हैं। सहायक वार्डन मैडम मुझे मां जैसा प्यार करतीं हैं। मेरे मां पिता नहीं हैं लेकिन मुझे छात्रावास परिवार ने कभी यह महसूस नहीं होने दिया। मै बहुत आभारी हूं, कि मुझे एक अच्छा और सफल इंसान बनाने में सब सहयोग कर रहें हैं।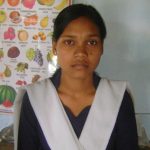 Amrika Gunju
As per RTE Act, 2009 every child in the age group of 6-14 years shall have a right to free and compulsory education in a neighbourhood school till completion of elementary education. In case a child above 6 years of age has not been admitted in any class or could not complete elementary education, he / she must be admitted in age-appropriate classes. Implementing this issue becomes a little tough in case of those children whose education underwent a long gap. Need of Special Training for never enrolled children or those who dropped out before completing elementary education is assessed during the process of identification of children. SSA provides support for Special Training as envisaged under the RTE Act for Out-of-School Children who have been admitted to age-appropriate classes of regular schools to ensure that they are integrated into the school system. Such support is provided in the form of residential or non-residential courses, as needed and such children will continue even beyond 14 years of age to complete elementary education. A lot of facilities are being provided to the children in all the residential special training centers of the State.
Last year, the State witnessed a remarkable achievement of a residential special training centre running successfully at Kadamtala H.S School, Dharmanagar, North Tripura. It is an interesting case of Amrika Gunju, a girl born to a Santhal tea-plantation worker family of Ranibari Tea Estate, Dharmanagar. She lost her father in her early childhood; and her mother never cared to send her to a school. It was the fateful month of January 2010, when the 'Vidyalay Chalo Abhiyan' as part of Sarva Shiksha Abhiyan was on. Amrika, then 13 years old and still unfamiliar with even alphabets and numbers, had been spotted by a team of SSA Tripura, who got her admitted in Class – VII according to her age. She was provided residential special training facility at Kadamtala Residential Special Training Centre. Since then, her learning gap has bridged and she was admitted in formal school. Teachers of Kadamtala HS School, other educated people from the community and even SSA staffs supported her whole-heartedly to minimize her learning gaps. In the year 2014, she appeared in the Madhyamik Examination (Class- X) under Tripura Board of Secondary Education from Kadamtala HS School. People from all communities were curious to know her results since then. It was, finally, the day of celebration in Ranibari Tea Estate,  Kadamtala Higher Secondary School and the SSA Offices on 5th June, 2014, the day of publication the Madyamik (Board Exam) Results, as Amrika Ganju cleared the examination with credit, having finished the ten-year syllabus within four years and bringing joy to all.
Amrika Gunju is no more a girl struggling with her destiny – she has become an icon in the educational sphere of the State. Teachers now cite the example of Amrika, other children in her predicament dream of becoming Amrika, even her mentors dream of producing more Amrikas in the society.

Lobsang Choengey
Father's Name :-   Ketcheng
Mother's Name :-   Leki Zomba
Village :-  Paikhar
Shri. Lobsang Choengey got electrocuted when he was 8 years old and had his both hands amputated. Then he got admission in Manjushree Residential School. Since then his study has been going on in good stead. He stood 1st position in class VIII in the school in 2014-15. He is now pursuing his Secondary Education in Govt. Sec. School, Bomba after completing his elementary education from the Manjushree Residential School. In sec. school, he secured 3rd position in class IX in 2015-16  and now in 2016-17 he is reading in class X. He is very good in singing, drawing and sports too.