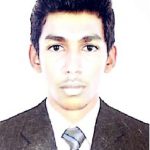 S. Vijay
Life of despair:
My name is S.Vijay.  I belong to a very poor family.    My family's economy compelled me to discontinue my studies before I could complete VI standard during the year 2011-2012. In order to help my mother, I started working as a sales person.
Renaissance:
At this juncture I was identified by the supervisor and Block Resource Teacher Educator of Sarva Siksha Abhiyan (SSA) during their survey in our area.  They gave counseling to me and my mother, and explained the significance of education to us.  As we both were convinced and got interested in continuing my education, they admitted me in Std VI in the special training centre (NRSTC) at Adhi Dravidar Welfare Primary School (ADWPS) (DISE code: 33151004601)  campus in Milaguparai, Trichy District.
My Guru
I must mention here the earnest efforts of the Educational Volunteer Mrs. Uma who took special care of me and encouraged me to involve in studies.  So I gradually got interest in studies and started learning to read and write. She also taught me painting as well as making handicrafts.  After the completion of special training, I was enrolled in Adhi Dravidar Welfare Higher Secondary School, Milaguparai (DISE code: 33151004602).
My Achievement and Gratitude
I regularly attended the school and now I have completed X standard successfully  scoring 294 marks.  The special training given to me  was very much helpful to me and I am happy  to extend  my thanks  to all the SSA Staff  and Educational Volunteer (EV) who guided me to lead my life  in the right path towards a bright future.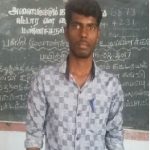 Kumarasen
I am Kumarasen from Lalapettai in Karur District. My Family belongs to Below Poverty Line category.  Due to my family circumstances, I discontinued my school education while studying VII standard.  When my mother passed away it led me to total depression.  Hence, I was left under the care of my grandmother in Mannachanallur, Tiruchirappalli District.
Got back my education:
My uncle, who came to know about the activities of Sarva Shiksha Abhiyan, Tiruchirappalli, motivated and guided me to continue my education.  When I met the Supervisor of SSA, he gave good counseling to me which made me realize the importance of education in my life.  With the help of my uncle, I joined SSA's Residential Special Training Centre in Samayapuram, Mannachanallur.  I was trained in that Centre during the academic year 2009-10 and studied VIII standard.  Subsequently on 31st March, 2010. I was mainstreamed in Panchayat Union Middle School, Koothur, No.1. Tollgate, Mannachanallur Block. (DISE code: 33150301801).  On passing VIII standard, I got admitted in 9th standard in Government Boys Higher Secondary School, Mannachanallur (DISE code: 33150300102). 
Came out with flying colors:
I continued my education in the same school with lot of inspiration from my beloved teachers and I completed my secondary education during 2011-12 and higher secondary education in 2013-14.  I was scored 360 marks in X standard and 982 marks in higher secondary examinations.
Growth in my life:
I got admission in EVR College for pursuing B.Com.  In I & II year degree examinations, I scored an average of 66% marks and now I am trying hard to score more.  Then I got admitted to the Institute for Entrepreneurship and Cares Development, Bharathidasan University in Logistic & Supply Chain Management, offered by DDU KAUSHAL and qualified with distinction.  I realized that being literate is not just a right, but a gift. I am very grateful to SSA because of the bridge course they provided me to build my ambition.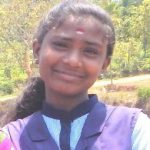 NISHA. M.
I belong to Paniya Tribal Community from Odamvayal, and I am very happy to share my testimonial on how I was able continue my studies inspite of various shortcomings.  After attaining my puberty I was dropped out.  I remained at home for nearly a year and was identified by the SSA team as a dropout.  I was not at all willing to continue my education but after motivation and counselling, I joined the RSTC Ambalamoola Centre and was given a bridge course and later mainstreamed to GHSS Ambalamoola (33110400504).  I am presently doing my IX std and I am so happy that next year I will appear for my Board Exams. Thanks to the SSA team for giving me a new life to continue my studies as a tribal girl.  I wish to come up in life as a successful tribal girl.


S. Sivanagari
I am Sivanagari residing in Kesthur village.  Kesthur is a very remote village situated in a forest area in Thally block of Krishnagiri district. There is no basic  amenity available in the village and we need to walk about three kilometers to reach the school in Manjugondapalli. It made me to remain as a Never Enrolled child up to the age of 10.   It was at that time, SSA started a RESIDENTIAL SPECIAL TRAINING CENTER (RSTC) in Kesthur, necessitated by the OOSC survey conducted in 2009. It was a great boon to me and the school age children in my village. The BRTEs identified me and admitted in the RSTC, where I was trained to reach the minimum level of learning. After completing my VIII Std., I was mainstreamed in GHSS ANCHETTY. Due to my family background, once again I became a Drop Out.  But, the training I got in RSTC made up my mind to continue my studies and to appear X std. Examination as a private student.  I secured 237 marks.  After that I joined XI Std. in GHSS Anchetty (DISE No.3331170040) and  scored 720 marks in XII std. Then I completed my B.A. English Literature from Government Arts College, Hosur in 2017. Now I am working in a private company in Bangalore and earn Rs.8000/- per month. My ambition is to complete B.Ed. and become a good teacher like the ones who changed my life.  I am grateful to SSA – KRISHNAGIRI for making my life prosperous and happy.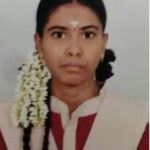 Anjali
I am Anjali from Tirupur. Due to lack of interest, I
discontinued my studies when I was in Class VII. Later I was
very much worried about my future. During the survey
conducted by SSA in April 2011, the BRTEs met my parents and insisted on the importance of education and my future.
Through their guidance and counselling, I was enrolled in
VIII Std in NRSTC of SV colony.
Mrs. Pathma Priya was the Educational Volunteer of the NRSTC which was
functioning in Municipal Middle School, S.V.Colony (UDISE No:33122202901). She
inspired me a lot. She taught not only the subjects but also
good habits. They provided noon meal, uniform, school bag
and chappels free of cost. It was only because of the
training provided in the centre. I passed the NMMS exam
successfully and received the Scholarship.
As I got interest in studies I completed VIII Std in MMS
S.V.Colony successfully and continued up to XII Std at
Jaivabai MGHSS, Tirupur. In X Std , I scored 440 and also
scored 1009 marks in XII Std. When in school I got a bicycle
and laptop free of cost issued by the Government of Tamil Nadu. Now I am studying II
year B. Com, CA in LRG Govt Womens Arts College, Tirupur. I thank Sarva Shiksha
Abhiyan for shaping my career and future.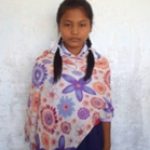 Sebika Debbarma
Sebika Debbarma, D/O Sri Ranjan Debbarma Village- Harbang under West Tripura district was identified as a Dropped-out child during 'Vidyalaya Cholo Abhiyan', 2012 and got  admitted into class III as per age in New Mandwai Girls' High School (Pry.) under Mandwai Block.
She was provided free coaching in the Residential Special Training Centre (RSTC) running in New Mandwai Girls' High School. Teachers of the Residential special training centre worked very hard to minimize her learning gap. Since then, her learning gap has bridged and she was admitted in Class VI of New Mandwai Girls' High School and was provided to the adjacent girls' hostel, run by the State ST Welfare Department. The girl came from a poor family without any stable source of income. However, at present, she is continuing her study in class IX. The girl has gradually developed day by day. Beside Scholastic development, she is well versed in performing tribal song.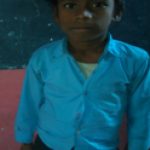 Gourav
When the special training teachers of GHS Karsan went around Ramdarbar colony to conduct a Survey of the out of school children, they found some children playing in the park. The Teachers asked them if they all are studying in any school. All of them replied in positive but only one child out of them said "no". By asking him the reason for not going to school, he told that he has no time for school as he is a domestic worker. The teachers asked him about his family and met his maternal grandmother and his mother. This child whose name was Gourav had recently shifted along with his siblings and his mother from a rural area in Haryana. As told by his grandmother, the mother of this child was tortured by her husband and his family. As she had no source of income to support her family, the child was not sent to school and became a domestic worker. He was a dropout child.
The Teachers motivated her to send Gourav to  nearby school. But she denied by saying that she has no money to pay fees and other facilities. Then teacher apprised her of free facilities being provided by government and her child will get free education, free food, free books and free uniform. She allowed her son to be admitted in school so that he can grow up to be a good man, a responsible citizen.
Enrolment in Special training centre
After assessment of Gourav by assessment tools developed by SSA UT Chandigarh, he was enrolled in special training center and the teachers started his basic and fundamental Special Training according to his level with the help of condensed material, Teaching Learning material and worksheets.
Achievements
He is good at studies and co-curricular activities. He has rapidly begun to understand counting, addition, subtraction and multiplication etc. he is also able to count tables.
He is the leader of "Cleanliness drive" at class level and participated at the school level also.
Monitor of Library books in the class.
With continuous efforts of teachers, Gourav has achieved his level of competency  and now he is preparing for class 7 (Level-III)